NOTICE: Version 3.7 is currently replaced by version 4.0 for use with OnStat Onboard Computers and OnStat Trackside Dyno
OnStat Onboard Computer Screen Snapshot - 3.7 version with full analog gauge support, cursor lock and crosshair cursor.
Current OnStat users can upgrade to version 3.7 with cursor lock which allows you to lock your graph cursor to mouse motion. Also, crosshair cursor which displays a cursor for time lapse and rpm levels. If you are a current customer email support@onstatracing.com and get your software updated today. (users must have version 3.5 or higher to upgrade)
OnStat screen above displays two runs in graph area. Each run is identified by it's color (red or blue). Screen shows time lapse cursor at 1.20 seconds of run. Traction is displayed via bar chart, Stats at top of screen displays % of M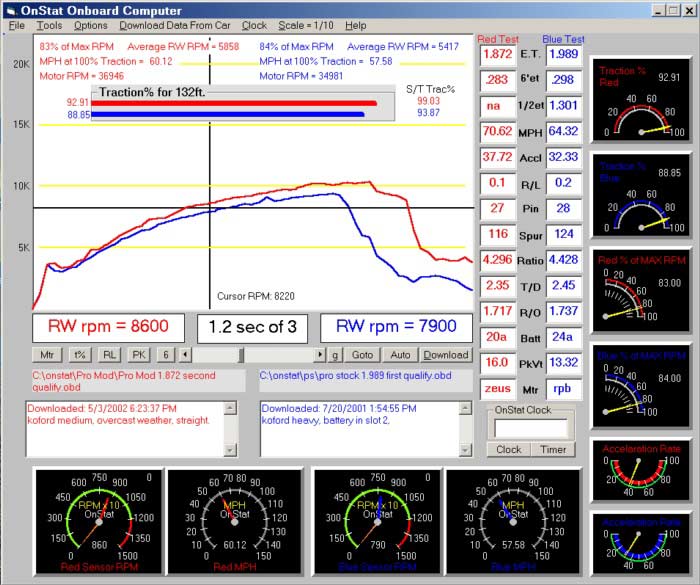 ax RPM, Average RPM, MPH at 100% traction, and Motor RPM all of which are based on current cursor position for each run displayed. This information is also displayed via analog gauges which update immediately based on cursor position. Version 3.7 now adds support for cursor lock which will allow user to lock graph cursor to mouse movement and crosshair cursor which displays a cursor for time lapse and cursor rpm relative to mouse position on graph area.
Mid section of screen shows quick buttons that allow instant access to most used menu selections - swap motor or rear wheel graph, traction %, rpm loss area, peak rpm acceleration, run length (3 sec or 6 sec), analog gauge display on/off, go to et, auto cursor scroll, and download button. (during downloading each run is time/date stamped into notes box for convenience)
Lower section of screen displays current file selection and has notes box for each run that racer can input information such as race/track conditions, weather, tire compounds and much more (up to 250 characters). OnStat also features a time of day clock or countdown timer alarm which can be used to notify you of upcoming rounds.
Just right of graph area are the data input boxes - these boxes allow the racer to input specific data pertaining to each run. Racer can enter elapsed time, 6 foot et, 1/2 track et, MPH, Accel (calculated by OnStat), rpm loss area (calculated by OnStat), pinion gear, spur gear, gear ratio (calculated by OnStat), tire diameter, rollout (calculated by OnStat), battery id, peak volts, and motor id. Software is fully compatible with Microsoft Windows 95, 98, Me, 2000, XP, Vista, and Windows 7 operating systems. Minimum pc requirements are an available serial port (com 1,2,3, or 4), Pentium I or equivalent, 4 meg ram.